Offerings and reservations
Restaurants located in the center of Poznań, on the grounds of the MTP Poznań Expo, in the vicinity of the Poznań Congress Center. The three-level complex consists of designer restaurants and banquet halls, including Oregano and Wine. The decoration of each room is a discreet reference to flavors, and the winner of the Polish Culinary Cup and winner of many international culinary competitions Tomasz Zdrenka, is responsible for the unique taste of the dishes.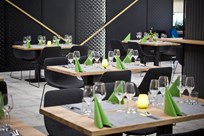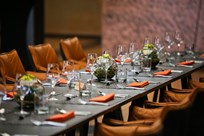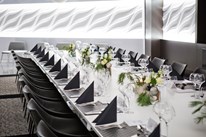 If you are looking for a place for lunch, dinner or an exceptional business meeting, the Oregano and Wine restaurant, which combines exquisite cuisine with modern design, will be the ideal choice. Business people are offered intimate and discreet offices, and the infrastructure and technical facilities create ideal conditions for presentations, conferences and training. 
Still for business, but not as official? This is how we create a unique atmosphere during integration events, anniversaries, or corporate Christmas parties. 
Creative cuisine is the key - thanks to a creative chef, his genuine dishes are small works of art. Yet creative cuisine is much more than that: an attractive and original way of serving suited thematically to the event, interesting spaces available to guests with the possibility of creative arrangement and inspiring live events featuring live cooking.
Thanks to flexible opening hours, meetings can take place at non-standard hours. Additionally, a convenient location in the business hub of Poznań and free car park for guests is a guarantee of a successful business.
The success of your business negotiations is at your fingertips!
Social meetings with friends over a beer or a drink, sports broadcasts on LED screens, coffee and cake with a friend in the city, or a family dinner prepared and professionally served - these are just a few scenarios that GARDENcity, a live cooking venue, can offer.
Nearby the restaurant, there is a special, summer space, which can be used by the inhabitants of Poznań and guests visiting our city. The garden, which was created in the immediate vicinity of the Basilico Bistro hall, is an oasis of tranquillity thanks to the abundance of plants, which allow you to relax from the hustle and bustle of the city. Guests will be able to enjoy light rattan furniture, pouffes and chests, under sunshades, surrounded by grass and the sounds of subtle music.
Ask for the offer
Izabela Rogowska
Account Manager
e-mail.
izabela.rogowska
Anna Bąblińska
Account Manager
e-mail.
anna.bablinska